Yoga, Fitness & Adventure Retreat
Komune Hotel
Keramas, Bali, Indonesia

September 19-26, 2019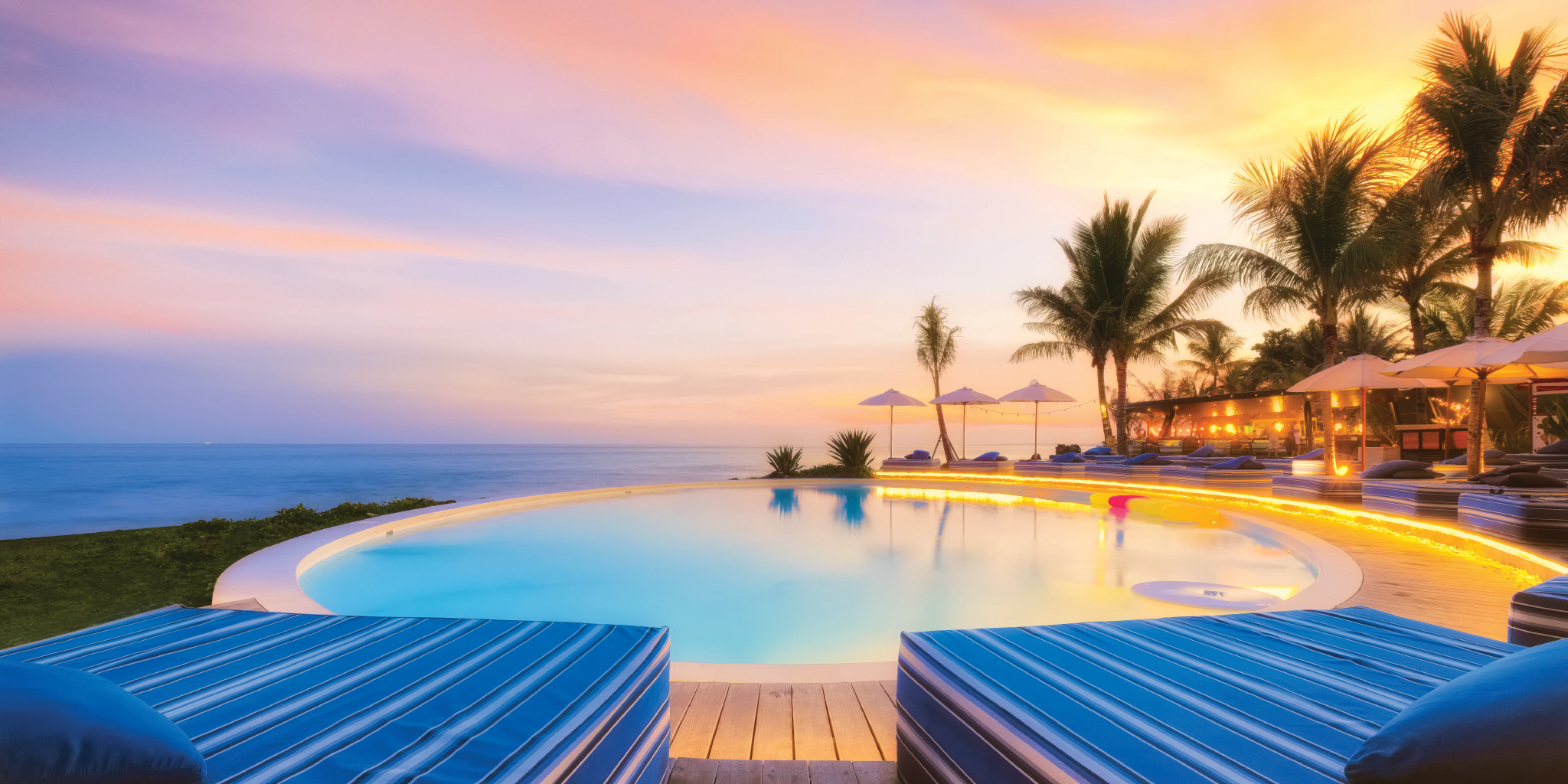 EXPERIENCE THE TRANSFORMATIVE MAGIC OF BALI

Oceanfront Accommodations | Spiritual Ceremonies | Volcano Hikes | Incredible Culture
Embark on a life-affirming week of yoga, fitness, nutrition, outdoor adventure and relaxation in one of the world's most magical places - Bali, Indonesia. Stay at a luxurious oceanfront resort with multiple pools, unobstructed views of the ocean and its sunsets, eating gourmet dishes prepared by Balinese chefs and taking in all that the island has to offer. Explore the Island of the Gods and absorb the transformative energy that makes Bali one of the most spiritual places on the planet!
New to the Tribe?
If you're new to us, you should know that we're not your traditional yoga retreat.
We're here to ignite positive shifts in your life.
We're here to challenge you to look at how you show up for yourself in your life and remind you of your power.
We're about motivating your personal growth with a supportive tribe of open-hearted people who really see you.
We're here to connect and challenge your body and mind so you go home sharper, stronger, calmer and more connected to your soul.
We're here to remind you to live life YOUR way.
You'll discover potential you didn't know you had. You'll make life-long connections with new friends and you'll go home with a renewed belief in yourself.

If you're at a pivotal moment in your life, processing a new direction, feeling stuck
or just need a FUN and meaningful moment to refill your cup, we invite you to read on and dive in.

Read more about SoulTribe >>
Join a tribe that celebrates your uniqueness, lifts you up and encourages you to be you and do you, but also to be your best! You deserve to live life in a way that lights you up, but happiness is an inside job. SoulTribe Adventures help you reconnect to your inner power by instantly making you part of a tribe of people who gets you, supports you through every challenge and brings a new meaning to the word FUN!
We work hard, play hard and rest hard. We start to break through patterns that have kept us from our full potential all while building real friendships for life.
You'll learn what it means to show up for yourself and for others, what it means to dig deep, and get closer to the inner confidence you find when you learn to really slow down and listen to your heart and your gut. Most importantly, you'll come home transformed in some way.

Do what lights you up!

We offer a Vinyasa Yoga class every morning, a daily Metabolic Effect workout (30 minute HIIT workouts at your own pace), and we wind down with restorative & yin yoga and guided meditations.

In between, make your soul play with:
Thrilling outdoor adventures that encourage you to face fears and take you from "omg I'm not sure I can" to "holy $&*t I CAN AND I DID!!"

Inversion workshops where you learn to stand on your head & hands, build strength and confidence and learn to see things from a different perspective (literally)

Group circles and discussions that make you feel part of something, help you dig deeper and look at the way you're showing up in different areas of your life

Yoga Nidra (guided meditations also referred to as "yogic sleep") to bring you to deep states of mental and physical relaxation

Games & activities to encourage you to rediscover the kid in yourself and remember what it's like to be at ease in your body and soul

Time to wind down quietly on your own, enjoy massages and spa services or connect one-on-one with incredible people you will feel proud to call your friends
You are welcome to do as much or as little as you like - at SoulTribe, the motto is "you to you."
Your Retreat Package Includes:
7 nights accommodation in a private or shared room

3 daily gourmet meals (vegetarian/vegan/gluten-free optional)

2 yoga classes and 1 Metabolic Effect workout each day

2 arm balance & inversion workshops

Yoga Nidra meditation sessions

Visits to stunning Rice Terraces & a local Hidden Waterfall

Visit to a Luwak Coffee plantation - one of the world's most famous coffees

Spectacular night hike to the summit of Mt. Batur volcano to watch the sun rise above the clouds

Transportation from/to Denpasar (DPS) airport

Goody bag with fun and useful surprises
NOT INCLUDED
Airfare to Denpasar Airport (DPS), Bali

Gratuities for hotel staff

Alcoholic drinks/specialty coffees

Spa/massage services

Balinese Water Purification Ceremony
ADDITIONAL EXCURSIONS & ACTIVITIES
Your retreat package includes: all on-site group activities, yoga, meditation, workouts, workshops and access to the resort's beach, pools and yoga decks.
Also included are optional day trips to rice terraces and waterfalls, a visit to a Luwak Coffee Plantation for a tasting and a night-time volcano hike to see the sunrise!
Other optional excursions around the island including a visit to Ubud and the Monkey Forest, and a traditional Balinese Water Purification Ceremony.
Signup options for these will be emailed to you upon registration ($125 including transportation)
Retreat Packages
All prices are per person, in USD.
Transportation & Logistics
Plan to arrive at Bali Ngurah Rai International Airport (Denpasar) on September 19th. Shuttles will be running throughout the day to bring you to the hotel (included in your package).
Plan to depart on September 26th, unless you fall in love with Bali and want to stay longer :) Check out the FAQ below and feel free to email us with questions!
VISA INFORMATION: US citizens and citizens of 139 other countries do not need a visa to enter Bali or to stay less than 30 days. Citizens who are not part of countries included in the visa exemption program can get a VOA (Visa on Arrival), purchased at the airport at the time of passport control at the immigration desk. Plan to have your return ticket in hand, $35 USD in cash for your Visa. To check whether you're on the list of visa exempted countries, please click here.
Check current flight prices:
Please ensure that your dates & airport are correct once the flight info populates.
Is this the right retreat for you?
Have you had an interest in a yoga or fitness retreat but didn't want to sit in silence for a week or show up and feel out of place?


Our yoga and fitness classes are challenging to all levels and we meet you where you are in your practice and physical abilities. Nathania loves to make yoga playful and accessible no matter how much or how little experience you have. Gary's workouts are designed for all levels of fitness too. He likes to say that his grandmother and an Olympic athlete could both get a good workout. If you want to dabble in the world of mindfulness and meditation without being TOO serious about it, we've got you.

Do you feel like you need to put down your phone for a bit and disconnect with other amazing humans and reconnect with yourself mentally, spiritually and physically?


Get out of the rat race and feel alive again all while making new friends, recharge your batteries, and create memories that will last forever!

Are you a little bit adventurous and that little voice inside is urging you to "get out and flex your holy sh!t muscles"?


We are a perfect fit if you've been looking for new ways to challenge yourself mentally and physically in a safe and encouraging environment. The best cure for inaction is to put yourself in uncomfortable situations and learn to be ok with discomfort. Our adventures span the realm of cave drops of 300ft in Belize to zip lining on the longest line in Mexico, to jumping from a 50ft pendulum swing or hiking to the top of a volcano in the middle of the night. Our adventures are designed to meet you where you are and help you break through your own mental blocks and self-imposed limits. You can do ANYTHING. Start by doing something daring.

Ready to see how you stand in your own way so you can move through that and start living the life you deserve?


All you need to be is open to having a new experience and connecting deeply with others from all over the world. You can go as deep into reflection as you want, or keep it casual. If you're feeling stuck or looking for answers, or processing a new direction in your life, this is the perfect opportunity dive in.

Are you a little excited and nervous about doing something like this?


Good! That's exactly what we want you to feel. From this place of fear and excitement, magic happens! You're not alone. Click below to see what others have said. Know that we are going to do everything we can to make sure you have a great experience. All you need to do is show up with an open mind!